Welcome to Shalimar Group of Houseboats
Shalimar Group of Houseboats is located at most beautiful spot at Nigeen Lake " Views of the surrounding mountains , Lake can be enjoyed from the Balcony of Houseboat . The houseboats offer leisure activities, guaranteed to deliver a contented and pleasant stay.

Shalimar Group of Houseboats offer free internet, front desk, 24 hrs room service, 24-hour security and doctor on call. The lounge space allows guests to relax and enjoy refreshing drinks and light evening snacks. The Houseboats have fine a dining area, a lounge cum sitting room attached Private Bathroom with Bathtub and small kitchenette.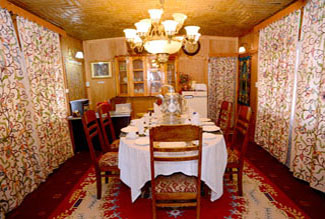 Shalimar Group of Houseboats offers Super Deluxe Room , Deluxe Rooms ,Standard Rooms are the Three room options offered to the guests for accommodation. The rooms are lavishly designed with beautiful wood carved interiors. The antique furniture and stylish Kashmiri carpets add to its appeal . Each boat has been built by hand, its exquisite interior intricately carved from fragrant cedar wood and sumptuously decorated using beautifully carved walnut furniture, hand-woven wool and silk rugs, khadi embroidery and richly colored paper machie items.

We provide homely atmosphere making your stay truly memorable. Here you enjoy at most personalized care and impeccable service. Sleep in comfortable and designed bedrooms with comfy beds and modern amenities. Friendly atmosphere of clean and comfortable accommodation that brings the nostalgia of old Indian hospitality alive.

We have been honored to have the intellectuals from different countries, Ambassadors, State Guests, Film Personalities, Rock Stars, Business People, Writers, Journalists as our valued guests.

We look forward to have you as our valued guests in this beautiful valley; be rest assured that you will enjoy your stay with us and will go back with happy memories and have the desire to come again and again.
---
About Nigeen Lake.
The city of Srinagar itself is quite famous for its lakes. Peace, serenity, calm, tranquility all defines the beautiful lakes of Kashmir. Apart from that, the delightful backdrop of the lakes almost leaves you speechless. Then, there are the amazing Shikaras and houseboats on the lake that further add to the enjoyment.

Nagin Lake got its name from the trees surrounding the lake. Popularly known as the 'Jewel in the Ring', it is one of the impressive lakes in east Srinagar. The lake with its deep blue waters is separated from the Dal Lake by a thin causeway and is an exciting tourist spot with number of houseboats dwindling in the calm waters.

Nagin Lake, though sometimes referred to as a separate lake, is actually part of Dal Lake,The lake is bounded by the Shankaracharya hill (Takht-e-Suleiman) on the south and Hari Parbat on the west and is located at the foot of the Zabarwan hills. Willow and poplar trees flank the edges of the lake.Nagin Lake is a perfect place to go for swimming as it is less crowded and deeper. Water Skiing & sailing on fiberglass boats can also be enjoyed here.

Shalimar Group of Houseboats is ranked as Deluxe Houseboat by Houseboat Owner Association.
Shalimar Group of Houseboat is recognized by Department of tourism Jammu & Kashmir